COMMUNITY EMPOWERMENT CELL
The APLHIV-Pakistan, under its strategic direction to empower the communities, launched "Community Empowerment Cell" in Jan 2017 on self help basis in a local hotel. A small exhibition was also organized on the occasion which exhibited the skills of HIV+ positive females to take steps for economic empowerment. The initiative was launched by the UNAIDS Country Director Dr. Mamadou Lamine Sakho along with representatives of NACP, PACPs & the APLHIV.
The objective of the empowerment cell is to encourage positive people & people from key populations especially the females to come forward with their expertise turn these expertises into opportunities & make them a dignified source of income. This initiative will pave the way for economic empowerment of these marginalized communities & will lead to reduce the dependency on others.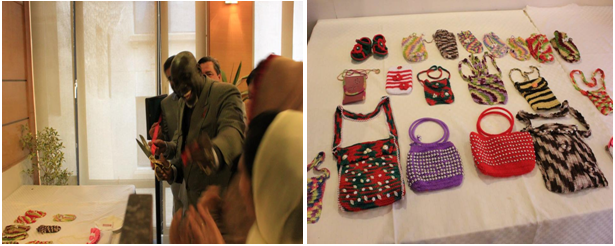 The APLHIV will provide limited support to any such volunteers & will help them to make their own respectful earnings, which will lead to improve their quality of life, which is one of the objectives of the APLHIV. The cell is working under the supervision of Senior Program Officer of the APLHIV Kalsoom Zahra. Till mid Nov 2017, the cell has supported Five [5] HIV+ people and enabled them to start with dignified source of income through developing their skills and providing them limited financial support.